Well, it's still my birthday week and I am sticking with the birthday theme. I decided for Throwback Thursday I'd go for vintage/retro birthday cards and signs. Who doesn't like good old fashioned retro birthday cards/signs?
I stumbled across this cool retro birthday cake canvas on Canvas Kudos. What's great about it is when you order it the canvas comes without the written greetings you see here. It comes with a marker so your friends and family can write you a birthday message.
Okay, I had to post this one — the
sentiments just cracked me up
.
Isn't this vintage looking birthday illustration great. To me it has a Victorian type quality that I like.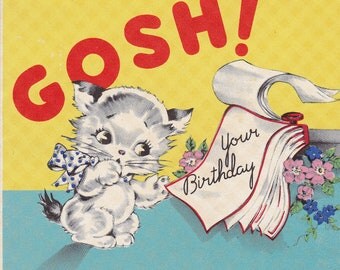 I l♥ve this sweet 1950's vintage forgetful kitten belated